Your MCA oral exam is, as the name suggests, spoken. It's a bit like an interview, really and it's critically important to practice speaking out loud.
We tell our clients that it is 50% confidence and 50% competence. Maybe that's a bit of an exaggeration but the difference between a correct answer presented confidently, precisely and clearly, and the same answer given by someone who clearly isn't sure they're right and which eventually peters out into an inarticulate mumbling, is stark, to say the least.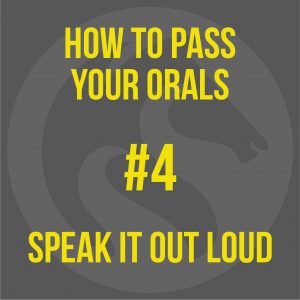 So, as the old saying goes, practice makes perfect. Once you've developed your deep and thorough appreciation of the difference between keeping out of the way and not impeding, practice out loud. Tell your Mum, Dad, girlfriend, boyfriend, dog, mirror, etc. all about it until they are sick of you (the dog will enjoy the attention) and you're able to confidently and concisely explain the point.
It's obviously even better if your victim knows whether you're right or not, so see our earlier post about working in a group if you can, or co-opt anyone you know with a ticket. They'll probably enjoy the opportunity to practice too.
We work just as hard to get our clients to speak up, shut up, sit up straight and believe in themselves, as we do to teach them the content, and it works. Really well.
If you only take onboard one of these bits of advice, make it this one.
If you need some more information about our services and how we can help you, take a look here.