Don't panic. We really mean it. Yes, trying to pass the MCA oral exam might well be the biggest event of your life and, yes, it's really hard and, yes, you might fail, but at the end of the day failing is better than being hit by a bus.
Some of our clients work themselves up into a complete mess a few days before their orals, but nobody who has ever gone for their orals knows everything. It's just not possible. Yet, if you've followed the rest of this advice and tried really hard, you are going to be well prepared and in a position to give it your best shot. The end result? Most of our clients leave the exam and say "That wasn't nearly as bad as I thought it would be".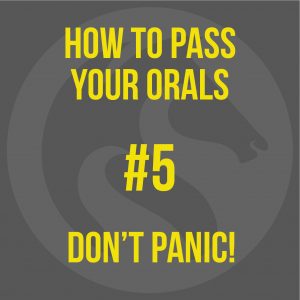 That's the truth. Some people aren't ready and they fail, some are ready and get caught out or make a stupid mistake (which sucks!) but most get through. If you do fail, just try again in a few weeks/months, a little bit older and a little bit wiser than the last time.
So, don't panic. Work hard but sleep well. Take some time off to clear your head if you need to. Believe in yourself, go in there and smash it. You'll be fine.
But if it all does get a bit too much, don't forget that there are loads of people out there to support you. Family, friends, colleagues, as well as organisations such as Big White Wall.
Of course, we're here to help you, in person or remotely, in a group or solo. We won't charge you an arm and a leg either. If you would like to know more about how we can help you, check out out orals prep services here.